RED SHIELD 2019 Upgraded Car Sun Visor Extender. Transparent, Tinted Shields Day & Night. Reduce Sunlight & Oncoming Headlights Glare Through Windshield. Drive Safer w/Enhanced Visibility. [2 PK]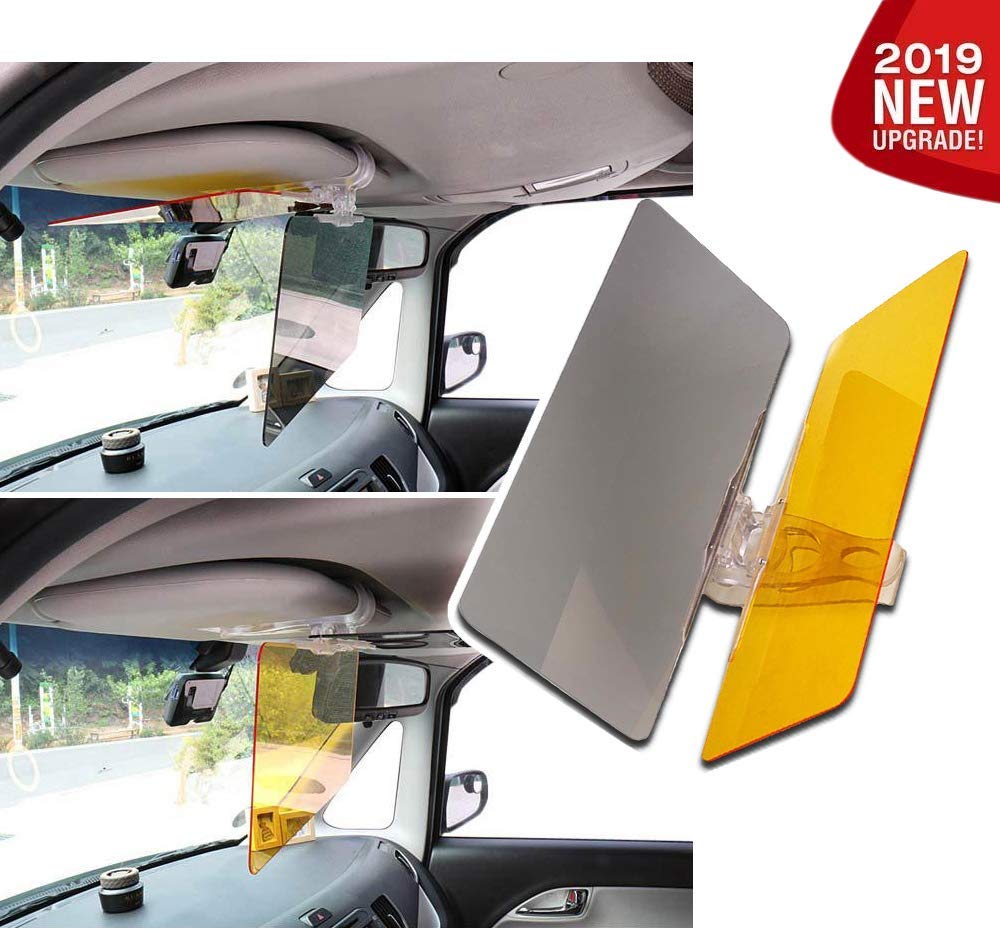 RED SHIELD 2019 Upgraded Car Sun Visor Extender. Transparent, Tinted Shields Day & Night. Reduce Sunlight & Oncoming Headlights Glare Through Windshield. Drive Safer w/Enhanced Visibility. [2 PK]
Use yellow tint for nighttime and black tint for daytime. Protect your eyes from bright lights and your skin from UV rays. It is easily interchangeable, just flip-up/down the shield that you need to use. Simply slide the clip on your car's sun visors. When not in use, flip them up so it sits flush with the sun visor for easy and convenient storage. Universal fit car sun visor is made to fit all vehicles.
ANTI-GLARE FOR SAFETY DRIVING: If you are bothered by sunlight and high beams while driving and you are looking for a product to protect your eyes, you have come to the right place! RED SHIELD's car sun visor extender is designed with anti-glare tinted shields for both day and nighttime protects eyes from UV rays, bright headlights, and sunlight. Two transparent shields – black for daytime, yellow for nighttime.
EASY INSTALLATION: Simply slide the clip on your car's sun visors, either way is fine; front or back. It can be easily installed or removed for when you don't need it, however, you can flip them up so it sits flush with your car's sun visor for easy and convenient storage. Please remember to peel off the protective films from both transparent shields. No screws and screwdrivers required. No irritation while driving. Easily interchangeable and freely adjustable up to 180 degrees.
2019 UNIVERSAL FIT: RED SHIELD's the lastest version car sunlight blocker is made to perfectly fit all vehicles such as compact, sedan, SUV, RV, buses, trucks, and more. It is made of high-quality PP & TPR material which is excellent weather and chemical resistance. Sturdy, shock absorption, and safe. It's definitely a must for those who are on the road frequently. Don't get blinded from sunlight and headlights. Enhance visibility and drive more safely with sun visor extender.
DIMENSIONS: Each transparent shield measures 11.81 x 5.12 inches which is big enough to block out most of the sunlight in front of your view. It also comes in 2 pack so that you can save more and use it on both driver's and passenger's side.
PEACE OF MIND: At RED SHIELD, it is our priority to design products that are safe and comfortable to use. We always hope you are highly satisfied with our products. Your feedback is very important as we are always looking for ways to improve our services and products.